It's a Work of Art on Wheels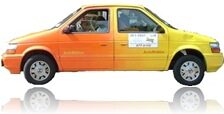 AutoMobius
The AutoMobius is a true work of art and an operational motor vehicle.
Built in 2003 in Buffalo, it was acquired by Mark Kubiniec as a living, breathing piece of moving art that would symbolize Buffalo's artistic ingenuity and represent Joe's Service Center at public events. It is on permanent daily display at the corner of Elmwood  Avenue and Amherst Street.
The AutoMobius is inspired by the Uroborus (also called Ouroboros) – the depiction of a serpent or dragon devouring its own tail in a self-sustaining circle.
Plato described a self-eating, circular being as the first living thing in the universe—an immortal, mythologically constructed beast.
AutoMobius was designed by Virocode – the collaborative name of medical researcher Peter D'Aurira and artist Andrea Mancuso.
Their work has been shown throughout the United States and Europe at venue including the he The Museum of Modern Art and The Kitchen in New York City,  Artspace and the Emanuel Walter and Etholl McBean Galleries in San Francisco, The Pacific Film Archive in Berkeley, California, Impakt Festival in The Netherlands, European Media Art Festival in Osnabruck, Germany and at the Albright Knox Art Gallery, Burchfield-Penney Art Center, CEPA Gallery, Squeaky Wheel and Hallwalls in Buffalo.
Origin Story
The work was created in 2003 as part of the public art project "Art on Wheels" sponsored by the Burchfield-Penney Art Center.
Fifty seven "art cars" (original sculptures and artistically transformed vehicles) were produced for the project (the Blue Mobile, the Jungle Car, the Streamer Car) but AutoMobius – the fusion of two mini-vans to represent the evolution and mutation of the automobile – was perhaps the most ambitious.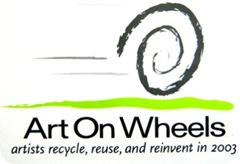 D'Auria and Mancuso came up the concept and design, and it was built by Tony Saia at Northtown Automotive Group.
As a fully operational on-the-road licensed vehicle, AutoMobius was exhibited all over the City of Buffalo during that summer, and became symbolic of the art project.
At the end of exhibition, many of the art cars were auctioned to the highest bidder as a fund-raiser.  Mark Kubiniek, who had recently purchased Joe's Service Center, decided he wanted the AutoMobius to symbolize his new business and archive it at the Corner of Elmwood and Grant.  After some spirited bidding, he became the owner.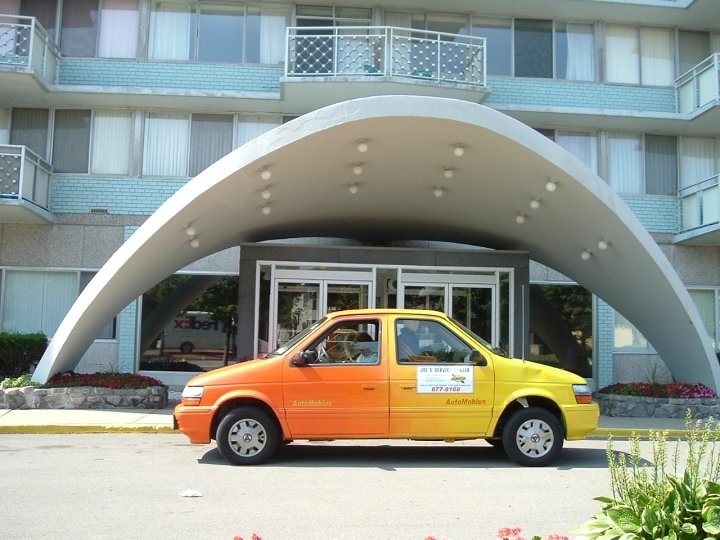 Community Ambassador
Since 2003 AutoMobius has plied the byways of Western New York and Southern Ontario.  It's been seen at environmental clean-ups, art festivals, the Elmwood Farmers Market and on the eastside at the Central Terminal and Broadway Market.
AutoMobius is the unofficial "mascot" the Grant Amherst Business Association which has now become the home of several new artist studios and galleries.
AutoMobius is available to appear at events, parties, openings and festivals.
Call 716-877-9823 for details.