Joe's Service Center is about more than pumping gas and fixing cars.  It's about local business, civic responsibility and service to the community. 

Owner Mark Kubiniec (No, Joe's not the owner, we'll explain later) is a community activist who left the world of studying community planning to one of leading community building.  But Joe's Service Center has a long history of community service.
History
It was in 1952 – the days of Hudsons. DeSotos, Nashes and Studebakers – that Joseph S. Modica opened Joe's Service Center, although in fact there has been a gas station at the corner much longer, and it is worth noting that

the manufacturing headquarters of the famous Pierce-Arrow Automobile is only a few blocks away on Elmwood.   He ran the business until his retirement in 1995 when his son, Dr. Joseph Modica Jr., a dentist, ran the business while also running his practice.
In 2003, the family put the business up for sale and it interested Mark, whose father has had a legal practice in the neighborhood for many years.  Mark earned a BA degree in Environmental Design from UB, and worked on construction management projects across the U.S.  Like many Buffalonians, he desired to return home to Western New York, and for several years worked on weatherization and housing programs.  He also worked on business development and planning for the Broadway-Fillmore Business District, including the famous Broadway Market.
New Ownership
When he heard about Joe's being for sale, he decided it was a good business to practice hands-on management, so he purchased the business in 2003.  Mark  installed pumps, canopies and tanks, expanded the store stock, added hours (open till midnight on weekends!) and doubled store staffing. 

He improved the service station and immediate environment by landscaping the pump islands, hanging plants in the store, and leading a team of student volunteers from nearby McKinley High School to plant four trees on Elmwood to beautify the neighborhood (with Joe's Service Center customers donating some of the funds).
Community Involvement
The business did well, and Mark invested in the community by buying several mixed use properties in the Grant Street area, bringing them up to codes and securing new retail tenants.  He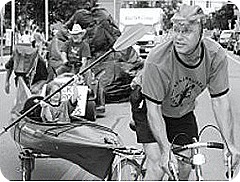 worked to establish the annual Elmwood Avenue Festival of the Arts which is held every August, and helped start the Grant-Amherst Street Parade and Festival.
As head of the Grant Amherst Business Association, he has worked as part of the team to bring in new art studios, crafts people and restaurants to sections of Amherst Street between Grant and Elmwood.
He has also put his environmental background to good use, serving as head of the Scajaquada Canoe Club and leading regular volunteer clean-up efforts of the creek which runs through the neighborhood.